Give Birth at Connecticut Childbirth & Women's Center
We are Connecticut's only freestanding birth center, providing safe, comfortable, out-of-hospital birth for over 20 years. The birth center is a home-like and serene environment to welcome your baby, and is the perfect option for low risk women desiring to give birth free of interventions.
What makes our birth center unique?
Some of the benefits of a birth center birth include ability to move around freely without monitors or IVs, use of shower and jacuzzi tub, freedom to eat and drink as you see fit, unlimited number of support people, and early discharge home. Our midwives are experts in physiologic birth, providing you the time and support that you need to birth your baby naturally. We are directly across the street from Danbury Hospital, which means we can quickly transfer to a higher level of care if needed.
The Birth Center is privately owned and located on the second floor of our building, with the clinic on the first floor. We have three birthing rooms, each with a queen-sized bed, big bathroom with large shower and jacuzzi tub, and lots of windows providing natural light. We have a variety of yoga balls, birth stools, and other helpful accessories to choose from. A midwife and nurse are called in specially for your birth, so there is no regular staff and therefore none of the "hustle and bustle" of hospital delivery floors. Our lounge areas (currently closed due to COVID) have couches, TV, full kitchen, and toys and books - perfect for children and any family and friends that have come to support you. You are admitted to the Birth Center in active labor, which means most babies are born an average of 2-4 hours after admission, though of course some will take longer and some will be even faster than that!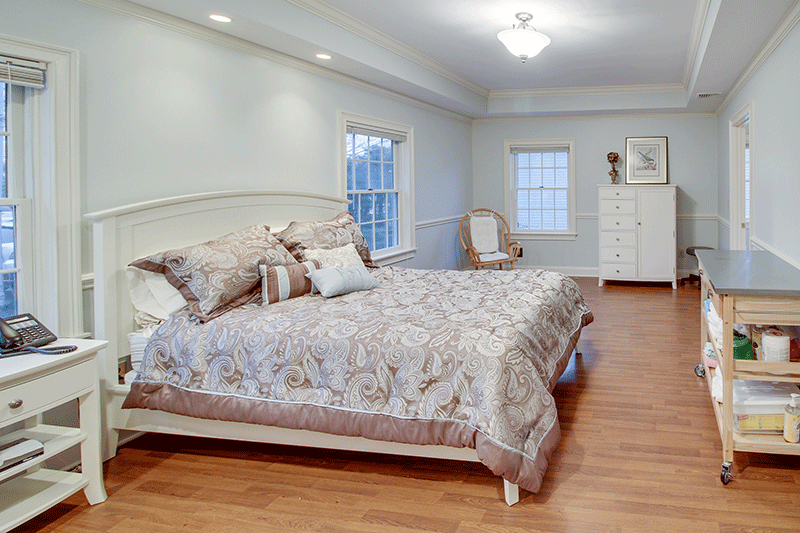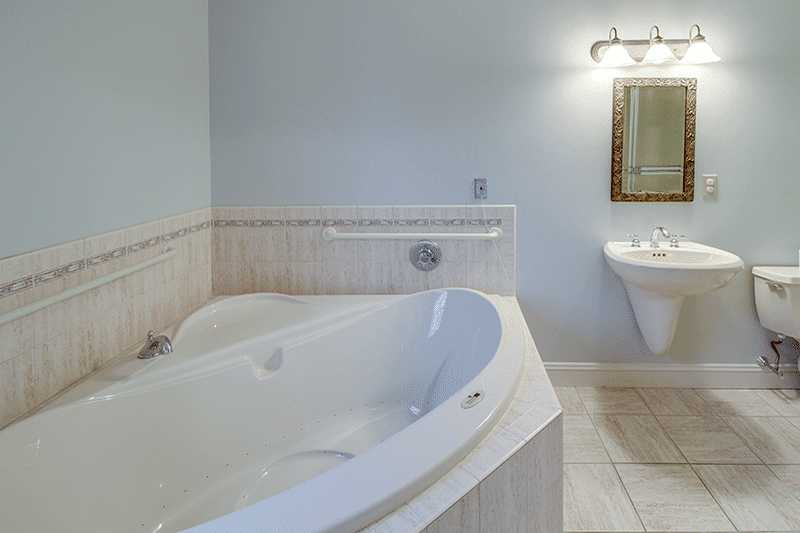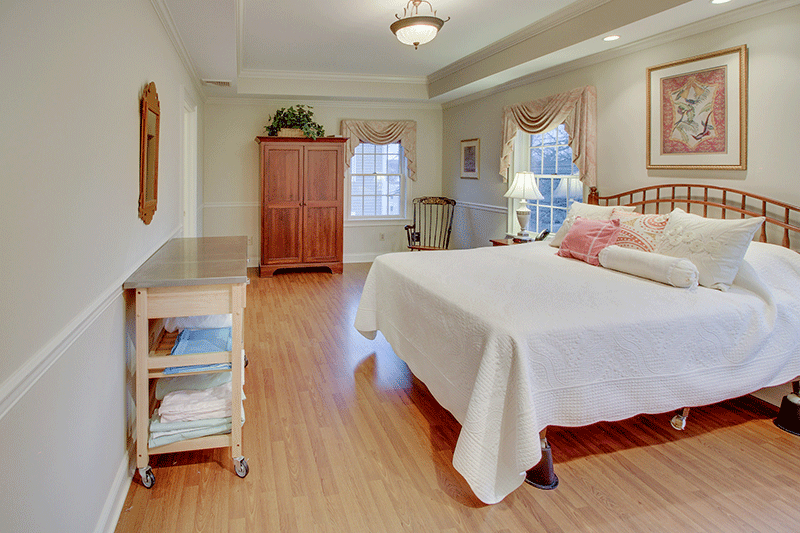 Three private birthing rooms, jacuzzi tubs & showers, yoga balls, birth stools, kitchen & lounge area.
Midwifery care at the birth center includes:
We are proud to support water birth at the Birth Center when it is desired. Laboring and birthing in the water can help ease labor discomfort and provide a calming atmosphere. All birth rooms have large jacuzzi tubs for this purpose.
Commonly called "gas and air" in the UK, inhaled nitrous oxide ("laughing gas") can be used for pain relief during labor. Because of its quick onset and short duration of action, nitrous is safe for use in a birth center and does not require any additional monitoring. We offer this option at the Birth Center, for those requesting it, for an additional fee.
Normal discharge home is 4-6 hours after giving birth to your baby, as long as mom and baby are stable. Our birth center families love the ability to go home so soon and rest in their own bed. A longer stay is possible, up to 12 hours, if you or the baby need additional monitoring or assistance. Normally, a midwife or RN will do a home visit at your residence 24 - 72 hours later, for families who live within 60 minutes of the Center. However, currently, due to COVID, parents and baby come back to the office for a visit 24-48 hours after the birth. At this visit, we do all the standard newborn screenings;  hearing screen, cardiac screen, metabolic screen, and a wellness check. We also evaluate the new postpartum mother, check in on feeding, and make sure a pediatrician visit is scehduled. 
The baby's heartbeat is monitored throughout your labor by your midwife using a hand-held Doppler device, which can also be used underwater for water births. Our assessment of the baby's health adheres to the accepted national guidelines of the American Association of Birth Centers (AABC), which are adopted from both the American College of Nurse Midwives (ACNM) and American College of Obstetricians and Gynecologists (ACOG) guidelines for intermittent auscultation. These guidelines are proven to be safe and effective at following the well-being of the baby during labor.
The laboring mother will also be assessed according to AABC guidelines, including vital signs, fluid intake, bleeding, and emotional wellbeing. Emergency medical equipment and medications are on-site to handle any complications. Midwives are trained to ensure the well-being of both mom and baby.
All patients are screened to see if they are carriers of Group B Strep (GBS) between 35-37 weeks gestation. Women who test positive are recommended IV antibiotics as suggested by the Center for Disease Control (CDC) guidelines. It is important to note that testing positive for GBS does not prevent you from giving birth at the Center.
We support families who wish to have a Vaginal Birth After Cesarean (VBAC)
. If your most recent birth was a cesarean, we will support you to have a VBAC at Danbury Hospital. If you've already had a VBAC, you have the option to have your next VBAC at either the Birth Center or
the hospital
.
Why do families love our birth center?
"Had a great experience with the midwives at the birthing center! Throughout my entire pregnancy, my questions were always answered and phone calls were always returned promptly. When an emergency came up after I slipped and fell on the ice at 8 months pregnant, Cathy Parisi was excellent! I could count on the midwives to help me make the best decision for myself without feeling pressured. I felt very comfortable going in for my check ups and even looked forward to them! Katie helped deliver my daughter along with a student midwife, I was very comfortable during labor and delivery. I can't begin to tell you how sweet the nurses were who helped during my labor. I would, and have, recommend any pregnant woman to investigate CT Childbirth and Women's Center."
Mary S.
"Had my 2nd and 3rd child here -- both were water births, and in both cases the midwives were *really* responsive to my needs, let me be the one in control, etc. Connecticut is really fortunate to have this gem."
Heidi L.
"Would highly recommend. midwives are excellent, personal attention, practitioners are competent and caring, relaxed environment, clean and professional. perfect for anyone wanting natural childbirth."
Michael G.
"I cannot put into words how incredible the birthing center staff are!!! I wouldn't go anywhere else!!! The friendliest, positive, caring and most amazing people who are like family to me."
Natalie S.
"Amazing experience, start to finish, with the Ct Childbirth and Women's Center. I felt 100% valued and cared-for throughout my pregnancy and will definitely return to them for our next child. Thank you all for such wonderful care and attention!"
Jessie D.
"I just had my son here
on Thursday
and it was very intense, born within 15 min of arrival at the center, very quick for a first time momma. Midwife and nurse kept me calm and got ready for him so fast. They coached me through it and it was beautiful. While I didnt get to labor much at the center, my recovery there was amazing. I felt so much love and care. I loved my care here and will continue to go here for years to come."
Amanda D.
"This is an amazing practice. I've had two babies at different birth centers and these midwives are exceptional. Kathy delivered me and there is no doubt in my mind that I wouldn't have been as calm, focused, and successful in my natural and drug-free birth if she wasn't there. All of the midwives are knowledgeable, friendly, and spend time with you as a patient. They are good listeners, empathetic, and truly love and respect pregnancy and the process. Both my husband and I highly recommend this practice and wish you a beautiful delivery!"
Sara S.
"I had my baby there in October and it was just such a perfect birth, just as I wanted! The midwifes were veryyy supportive and helped me get through the toughest moments! There was a student midwife that was just an angel, she was the one that was with me every step of the way besides my partner and best friend! I can't imagine more peaceful and supportive birth. Highly recommend, if you're looking for alternative to a hospital with zero interventions!"
Magdalena N.
"Having our daughter here was the best decision we could have made. The staff is all amazing and we had the best birth experience. The hour drive to Danbury was definitely worth it. The birth center is comfortable and having the hospital across the street gave my husband peace of mind."
Melissa F.
"The midwives guided me and my husband through my 50 hour labor and water birth with my first baby in May. I am sure that if I was anywhere else I would have had unnecessary interventions. It was the hardest thing I've ever done but am so thankful that we chose the birthing center. Our daughter is such a "happy baby!" Just like they could tell from that Doppler monitor!"
Anna M.
"I absolutely love this place. I had the absolute best birth experience here. The midwives are amazing. The birth center itself is clean and spacious and comfortable. There are jacuzzis available for water births which I plan on utilizing for my next birth. I was nervous to use a hospital to give birth as I wanted no unnecessary interventions. The birth center gave me that and is perfectly located right across the street from the hospital for extra security just in case. The lactation consultant on staff is superb. I still utilize her 8 months later. Can't say enough!"
Erin K.
"Got there at
8 am
, had a baby at
11:30
, and went home at
3:30
. They were very attentive and always checking and monitoring momma and baby. Very knowledgeable and willing to teach the inquisitive minds. 100% satisfaction and beautifully healthy baby and momma. Thank you so much."
Randy K.
"Amazing experience with these wonderful women. We felt safe and well taken care of for my entire parental and labor experience. I felt a real connection and was very comfortable with any of the midwives being present at the birth of my daughter. We would absolutely recommend this practice and can't wait to come back!"
Elizabeth T.
"LOVE this place! From the moment I stepped in the door to take the tour, I knew the birth center was for us. Every single prenatal visit was a fantastic experience, and our daughter's beautiful birth topped it all off. I wouldn't have had it any other way. The midwives are awesome, the support is out of this world, and I even switched over all of my women's healthcare to CCWC. Thank you for everything!"
Suzanne
"My family and I needed Ayo's birth to be a healing experience. It was that and so much more. We had the type of birth we planned, longed for and wished for. Just like Daddy had wanted. Ayo is amazing. Thank you so much."
Yemi A.
Enjoy this article from the News Times on our 2011 milestone of 1000 babies born at the center!  > Read the article.